StarWind iSCSI Target Server

Order now
To order your StarWind iSCSI Target, please contact our sales team at
sales@dewlock.com.au
Product information
StarWind is an advanced, software-only iSCSI Target implementation for Microsoft Windows. StarWind enables anyone to quickly install and configure a complete IP SAN solution on commodity hardware allowing you to pick and choose the best components (cpu, network, cache, etc...) suitable for your environment without being locked in to the hardware provided by a vendor.
A software SAN solution allows you to have the best-of-breed hardware. It takes significant resources for a hardware SAN provider to write custom drivers and modules for each hardware component in the SAN, which means that the hardware often lags technological advances, sometimes by more than a year. Furthermore, upgrade paths for the hardware are virtually non-existent requiring you to purchase another SAN system from the same vendor.
In many cases, StarWind does not require you to buy new hardware because you can take advantage of your existing Ethernet and IP network infrastructure while leveraging server and storage resources that you already own. And if you do have to make any additional purchases, you only need a standard off-the-shelf hardware rather than the high priced of proprietary hardware or networking gear seen in traditional SANs, including Fibre Channel.
With StarWind, you decide when you want to upgrade the hardware and you decide which vendor is best for your environment. Because StarWind uses the drivers provided by the vendor for Windows, as long as the hardware has a Windows driver, it will work with StarWind! Building our technology on top of Windows not only allows us to support the widest range of hardware, but with the substantially improved driver stack, the performance of writing directly to the hardware vs writing through the stack is virtually insignificant. The bottleneck is no longer Windows and the drivers, but the speed of your physical network and the hardware.
Product Benefits
Eliminates the need for expensive, proprietary storage
Transforms any Windows server or any Virtual Machine itself into a SAN
Consolidate and Virtualize Storage and Servers
Leverage shared storage to optimize VMware and Hyper-V environments
Enhance Server Cluster environments with centralized storage
Efficient failover of SQL Server and Exchange environments
Improve Disaster Recovery and Business Continuity Plans
Leverage Existing Network Infrastructure
Create Mirrored Fail-Safe Volumes
Automatic transparent failover
Failback capabilities with fast synchronisation
Support for SCSI persistent reservation commands
Replicate Mission Critical Data with both Synchronous and Asynchronous support
3-node high availability with active nodes, 99.999% availability!
On-the-fly global data de-duplication technology
Support for thin provisioning
Support for CDP and snapshot generation
Support for up to 512TB of storage
Wire speed performance achieving over 1,000,000 IOPS!
Virtualisation Support
Hyper-v, VMWare and Citrix certified
Agentless Architecture
Backups stored in Hyper-V and VMware native formats (VHD, VMDK)
Global Deduplication
Single-click Backup
Sandbox mode
Potential uses
Project Uses Cases

Server Virtualization
Business Continuity
Disaster Recovery
Server Clustering
Shared Storage

Applications

VMware ESX and ESXi
MS Hyper-V Server
Citrix XenServer
MS SQL Server
MS Exchange Server

Industries

Commercial
Financial Services
Heathcare
Government
SMB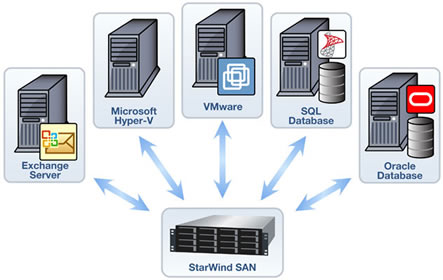 A Better SAN
Traditional proprietary SANs require substantial investments for new equipment, the facilities to house it, expensive networking gear to carry the data, and costly personnel training. But a new class of high-performance SANs requires none of these things. Introducing a more efficient and cost-effective IP SAN solution:  the iSCSI SAN from StarWind Software.
Enterprise-level performance at an affordable SMB price
StarWind StarWind puts high-performance, high-capacity SANs within the reach of any organization's IT budget. Our IP SAN solution enables small- and medium-size companies to reap the benefits of enterprise-level solutions without the costs associated with their implementation and administration.  That's the StarWind advantage.
Unlimited potential
While it's reducing your total cost of data storage ownership, StarWind doesn't skimp on performance, SAN services for storage provisioning or data protection. Microsoft VSS (Volume Shadow Copy Services) compatible dynamic volume snapshots and automatic incremental backups make disaster recovery and backup initiatives a breeze. All this and as many Terabytes as you want.
Customers
StarWind iSCSI Target is a powerful and reliable SAN for small and midsize businesses, governments and Fortune 1000 clients.
Order now
To order your StarWind iSCSI Target or to get pricing for StarWind, please contact our sales team at
sales@dewlock.com.au